Let me ask you a question.
What came first in your mind when you heard the name Pickle Juice?
Something like throwing some pickle in a juicer and juicing it?
Well, from the name it seems like, in order to make pickle juice, we have to juice pickles. However, it's not like that. Pickle juice is the water that we use to brine cucumbers while making pickles. But here we will use this water as a drink, without cucumbers.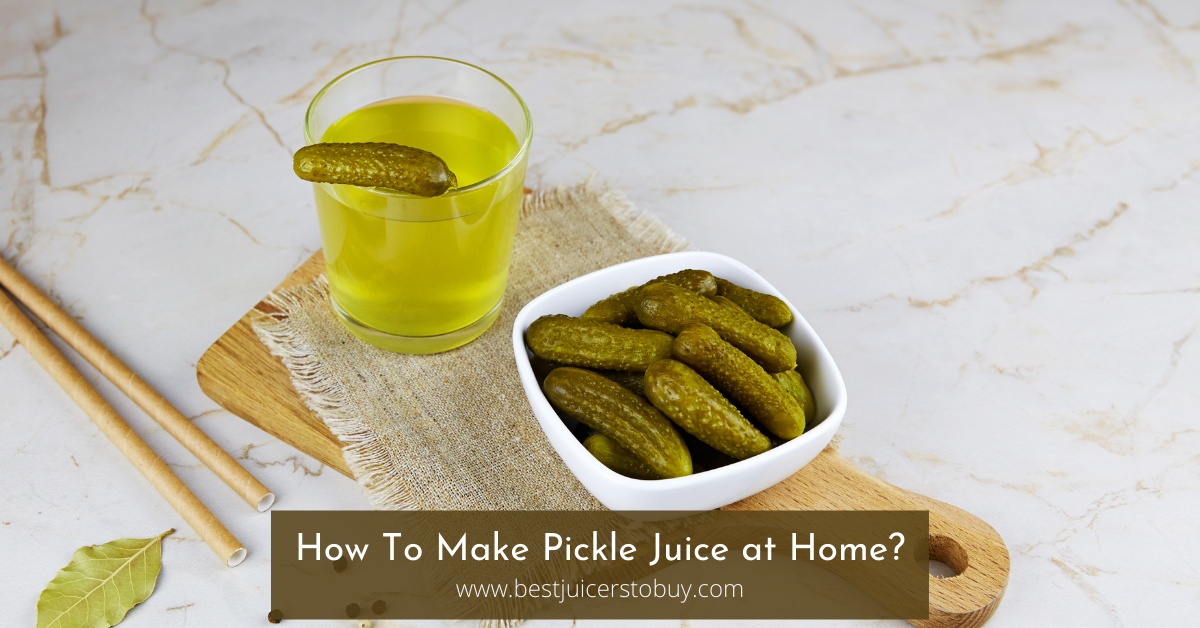 So, before proceeding to the recipe of how to make pickle juice, let's discuss a little about why people are drinking pickle juice and is it even good for your health or not.
Why Drink Pickle Juice?
In recent times, pickle juice has gained a lot of popularity among people. You could have possibly seen at least one Instagram Influencer or Fitness Freak talking about Pickle Juice.
The reason behind this popularity is that Pickle Juice may prevent you from getting dehydrated, headaches, and muscle cramps. Especially, when you are having a KETO Flu.
Here arises a question. What's KETO Flu anyways?
What's KETO Flu?
Just like Pickle Juice, KETO Flu is not either a kind of flu in real.
KETO Flu is the feeling you get when you just start a KETO or any other low carbohydrate diet. These feelings include dehydration, nausea, vomiting, headaches, migraines, and muscle cramps.
But why does this happen?
These symptoms are not a sign of danger, but a natural process. It usually happens when you are on a low-carb diet. So, when you start a new diet, your body also starts to get used to it. Hence, the body's electrolytes get imbalanced and these symptoms arise.
Pickle Juice helps maintain a balance among the electrolytes present in our bodies. Consequently, eliminating the symptoms of the KETO Flu.
Read Also: How To Make Strawberry Juice?
Is Pickle Juice Good For You?
There is a very frequently asked question regarding Pickle Juice. And that is, is Pickle Juice good for you?
So, here is the answer.
In fact, this Juice is a very beneficial sugar-free drink. It is a kind of electrolyte drink. Moreover, it contains the minimum amount of carbs which means almost no carbs at all.
Pickle juice is the perfect mixture of salt, vinegar, and water. Hence, it plays a vital role in renewing the electrolytes that are present in your body. Furthermore, it helps you prevent dehydration as well.
Most surprisingly, many of the athletes also drink pickle juice as a sports recovery drink. Pickle juice is a great alternative to those unhealthy loaded-with-sugar sports recovery drinks.
You can also avail pickle juice in the form of popsicles and even in cans. However, making it with your own hands tastes way better than the one taken from the market. Also, you can decide the number of ingredients according to your choice.
Please note that consuming anything beyond its limit is always dangerous. And the same goes for the Pickle Juice.
Check these 8 Best Juicers for Apples
So, let's get to learn how to make pickle juice at home.
How To Make Pickle Juice At Home
As you have got quite enough knowledge of pickle juice, it's time to learn how to make it. We have divided the guide into different parts to make it easier to understand for you.
Ingredients
However, there are many different kinds of pickle juice and they require different ingredients as well. But the most common ingredients for pickle juice are below.
1 cup full of vinegar
2 cups full of water
4 tablespoons of table salt
A mixture of spices (garlic, ginger, mustard seeds, chili's flakes, peppercorns, etc.) only if required
Preparing Spices
Take two cloves of garlic. Peel and finely chop them. Now grate ginger about two teaspoons. After that, take a maximum of 2 teaspoons of all the other spices. You can also add one diced jalapeno if you want some extra kick.
Combining The Ingredients
Now, in a saucepan, put all the solid ingredients. Now pour the distilled or filtered water. After that, put the salt and vinegar into it. You can take any type of vinegar as long as it has an acidity level of at least 5%.
Heating the Mixture
After combining all the ingredients in the saucepan, start the burner at low heat. And let the mixture heat slowly. Now keep the mixture simmering until all the spices get dissolved.
Once you are satisfied that all the spices have dissolved completely, turn off the flame and take the saucepan off the stove. And let it cool down at room temperature.
Read Also: How To Juice Peaches at Home?
Straining the Pickle Juice
After the cooling down, pour the mixture into an air-tight container, while straining it through a strainer. This step will ensure that if any of the spices have remained undissolved, will not enter the pickle juice.
Serve and Drink
The recipe that you have just read, makes approximately 4 cups of pickle juice. The best time to serve and drink pickle juice is right after it is prepared. However, you can store it in the refrigerator for up to one month, if the container is tightly closed and a minimum amount of air can enter it.
Short Summary
Hopefully, after reading the whole guide you have successfully learned how to make pickle juice at home. However, there are a lot of other things that you have learned through this article. Let's recall them.
At the start, we discussed the reason behind drinking pickle juice. So, it turns out that most people drink pickle juice to avoid the KETO Flu when they have just started the KETO or any other low-carb diet.
Alternately we also explained what KETO Flu is. To be very concise, it is the feeling we get when our body darts getting used to any new low-carb diet that we have just started.
You must have also found the answer to one of the often asked questions. And that's, is pickle juice good for you? And the answer to that question is, YES. It is absolutely good and safe to drink. In fact, many athletes also drink pickle juice as a sports recovery drink. And according to many of them, it is a great alternative to those commonly available sugary sports recovery drinks.
And finally, we have described the recipe for preparing pickle juice. We have broken the recipe into many different sections to make it easy to understand.
All you have to do is take the right ingredients in the right amount and put them in a right-sized saucepan. Then, heat the mixture and leave it on simmer until the spices have dissolved. Once all the spices have dissolved, take the mixture off the heat and let it cool down.
After the pickle juice has completely cooled down, pour it into an air-tight jar while straining it through a strainer. It will catch any of the undissolved spices. You can also seed and dice a jalapeno to your ingredients for some extra shock.
This recipe makes approximately four cups of pickle juice ready to serve. 
Read Also: Is Simply Orange Juice Good For You?