Sometimes many of us want to lose weight but when we get a long list of delicious things we cannot consume, we get disappointed, and eventually, this leads to quitting. Losing weight is an essential part to maintain your health, especially during and after the mid-life crisis while enjoying life is also important.
Is there really any way by which you can lose weight while enjoying your diet? You would be glad to know that yes there is really a method and that is smoothies.
We have brought 5 amazing and unique recipes of smoothies for weight loss you can make at your home in no time. In this article, you will know how smoothies can be important for weight loss and how you can prepare them.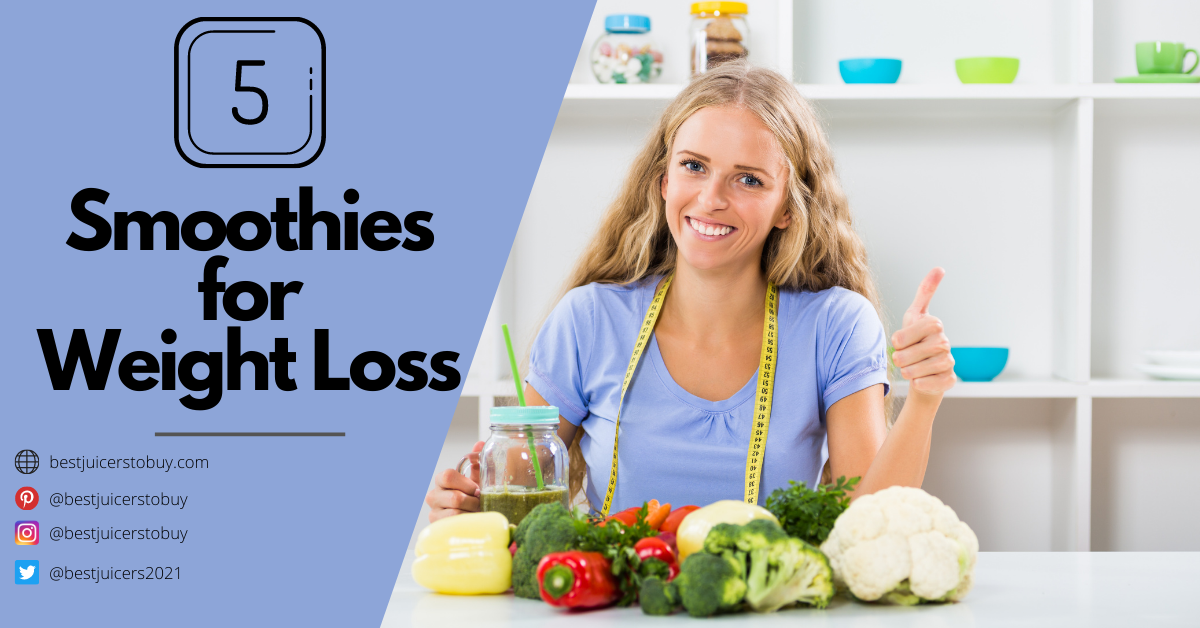 Before proceeding to the recipes, you must know about smoothies and how they can benefit you in your weight loss journey. Have a look at it!
What is a smoothie?
Smoothie is a thick textured drink usually prepared in a blender with pureed raw fruits or/and vegetables including other liquids like milk, juice, or even yogurt. You can also add other products to your smoothie for example cottage cheese or ice cream according to your taste.
We already have a list of the best juicers for your help.
Importance of smoothies for weight loss
Not known by many people is the fact that smoothies can play a great role in weight loss. Typically, the main ingredients of smoothies are pulp, skin, and seeds of the fruits or vegetables that are added to it. These ingredients are enormously rich in dietary fiber which keeps you full and helps you avoid the unhealthy snacks that you could eat between your meals. Not only this, but smoothies also contribute towards nutrition intake depending on the ingredients you put in your blender.
As you have known enough about smoothies and how they can help you lose weight now you can proceed to the recipes of healthy smoothies. We have created a special list of smoothies that will help you lose weight efficiently.
1. The Pumpkin Banana Smoothie
This smoothie is highly rich in potassium, magnesium, calcium, fiber, and essential vitamins as it is prepared with a combination of pumpkin and banana mainly. This smoothie will make your bones stronger while maintaining your energy level for the whole day.
Ingredients:
Half cup milk
Half cup Pumpkin Puree
One and a half teaspoons of maple syrup
One ripe banana
Half cup of no-fat vanilla yogurt (if you like)
Directions:
Throw all the ingredients in your blender altogether, and bland until it gets even. The smoothie is ready, pour it into your glass and enjoy.
Read Also: 7 Health Benefits of Orange Juice
2. Go Green
The tropical drink conceals two cups of healthy leafy greens inside it. The leafy green means the combination of Kale and Spinach which are rich in calcium, minerals, and fiber of course. If you are a fan of green drinks then this is definitely for you. Always remember to use the best juicer for greens for this type of smoothie.
Ingredients:
1 cup of milk
1 cup of spinach leaves
Kale leaves 1 cup
½ banana
1-1/2 cup of frozen pineapple chunks (not compulsory)
Directions:
First of all, blend the milk and banana. Once it gets blended evenly put the green leaves into the blender and blend it well. Then put the pineapple chunks into the mixture and blend it only for 15 seconds and you're done with your tropical green smoothie.
3. Aqua Monster – The Watermelon Smoothie
Staying properly hydrated is one of the biggest factors in the journey of weight loss. A study conducted in 2014 showed that 12 people who drank 500 milliliters of cold and room temperature water gained a little energy. And astonishingly they burned 2-3 % more calories than usual in the 90 minutes after drinking water.
Moreover, when your body is dehydrated it cannot remove the waste properly. This smoothie will keep you hydrated along with giving you a nice taste.
Ingredients:
There are only two ingredients for this smoothie
Directions:
Cut the watermelon into cubes. The amount depends upon your mood. Blend the watermelon perfectly and sprinkle the juice of the fresh lemon on it to give it a nice taste. One thing to remember is that before making this smoothie put the watermelon in the refrigerator because this smoothie tastes the best when served cold.
Read Also: How To Make Apple Cider Vinegar From Fresh Apple Juice
4. Mix Berry Bliss
A treasure full of antioxidants lies beneath the surface of this smoothie. This pleasant color of this smoothie will refresh your mood along with a stunning taste because of the mixture of different berries in it.
Ingredients:
½ cup of milk
½ cup no-fat yogurt
1 teaspoon of honey
1 cup of mixed frozen berries
3-5 ice cubes
Directions:
Just like a typical smoothie, put all the ingredients all together in the blender and blend it for a while. Once blended, add the ice cubes and blend for 10 seconds. The cold Mix Berry Bliss is ready to be consumed. There you go!
5. Strawberry-ginger smoothie
According to Healthline, ginger can reduce inflammation and oxidative stress in your body as it contains some antioxidants known as gingerols and shogaols. And strawberry is enriched with vitamin C which enhances your immune system to fight against diseases. This smoothie can play a vital role in making your health in stable condition.
Ingredients:
A piece of ginger (about 1 inch long)
1 cup of milk
1 cup of frozen strawberries
And some ice cubes to chill it
Directions:
This is one of the most simple and easiest smoothies as it has no specific directions. Just throw everything into the blender and blend them all together. And you are done with it.
We have reviewed: 7 Best Manual Juicers
Final Words
Although there are a lot of different kinds of smoothies out there, this list contains the simplest and easiest smoothies for weight loss especially. So out of these 5, which one are you going to try first?