Are you looking for how to juice peaches? Well, I must say you have got a nice sense of taste.
Along with having an electrifying taste, peach juice also provides us with numerous health benefits. For instance, it may help us improve our digestion, and skin, and may also reduce some of the common allergy symptoms.
In this article, you will learn everything about peach juice, from selecting the best peaches to how to juice peaches at home.
However, before directly proceeding to juice peaches, you should learn a little about peaches and what are their health benefits.
Get to Know A Little About Peaches
If you talk about the history of peaches, you might have to go 8,000 years in the past. According to credible sources, peaches are most likely to have originated in China more than 8,000 years ago.
Peaches are related to Plums, Apricots, and Cherries, as they all are from the same family, the Rosaceae Family. Peaches are called drupes. Because inside of their pulp, you can find an edible seed.
You can consume Peaches in a great number of ways. You can eat them directly, you can drink their juice, or you can also add them to your regular salad for enhancing the taste.
We have reviewed: 8 Best Compact Juicers
What are the Benefits of Peaches?
It's a good sign that you know what are the benefits and effects of anything before consuming it. The same goes with Peaches. Although there are a lot of health benefits of peaches. However, to keep it short and simple, we have included these 3 benefits.
1. May Improve Your Digestion
If taken in the right amount, peaches can surprisingly help improve digestion.
Why?
Because it contains fibre. Which plays the most important role in the digestion process. A typical-sized peach contains about 2 grams of fibre. Half of this total fibre is soluble, on the other hand, the remaining half is insoluble.
The insoluble fibre helps to add bulk to your stool, resulting in the easy movement of food in your gut. Consequently, minimizing the chances of constipation.
While at the same time, soluble fibre supplies food to the beneficial bacteria present in your intestine. Which in turn, create short-chain fatty acids e.g., butyrate, propionate, and acetate.
These fatty acids help in reducing inflammation and cure some digestive disorders such as IBS, Crohn's Disease, and ulcers.
2. May Help Improve your Skin
Peaches also have some nutrients in them that can seriously improve your skin health.
Some studies show us that peaches have compounds that may help your skin retain moisture. Hence, making the skin texture better.
Moreover, animal studies as well as test-tube studies, indicate that extract of peach flowers or flesh, when applied to the skin, helps in resisting the damage caused by UV rays.
However, please note that facts can only be concluded after more human studies.
Read Also: What To Eat After a Juice Cleanse?
3. May Also Help in Reducing Allergy Symptoms
Some studies tell us that peaches are also helpful in reducing certain types of allergy symptoms.
But how?
When allergens attack our body, it emits some histamines as a result of the immune system fighting against the allergen.
Histamines, in turn, produce some allergy symptoms such as itching, coughing, and sneezing.
Many types of research have proven that peaches can effectively reduce allergy symptoms by reducing the release of histamines.
How to Juice Peaches at Home?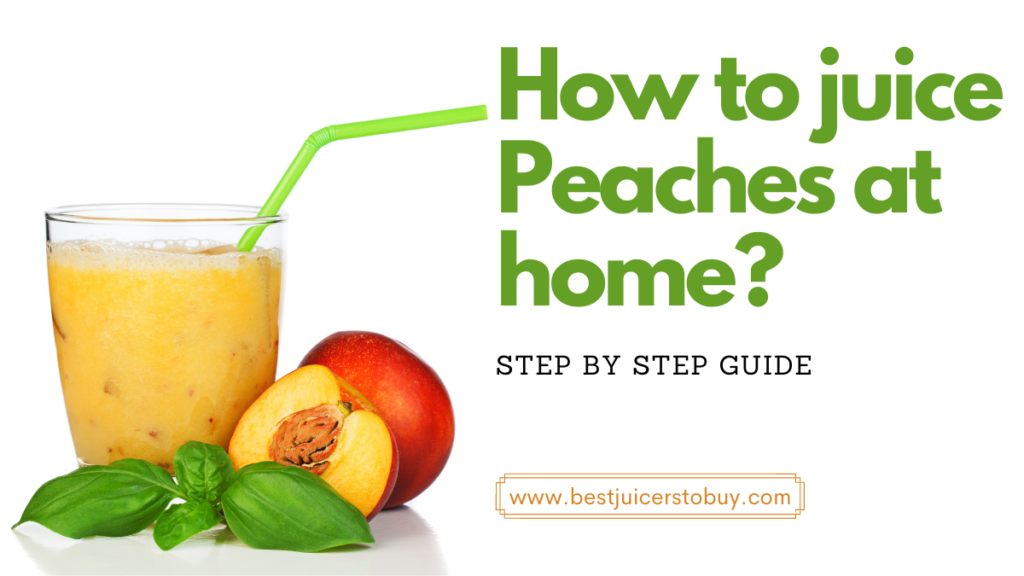 Well, now that you are well aware of peach and what are their health benefits, now it's time to master the art of how to juice peaches.
For your ease of reading and understanding, we have divided the whole guide into three parts.
The first is about picking the best ingredients for your juice.
The second is all about how to prepare the ingredients for the best output.
And last, the most important one revolves around the procedure of preparing your peach juice.
Read our review on the Best Kuvings Juicers.
Selecting the Peaches
Every output mainly depends on the quality of input.
If you want to make a delicious peach juice, you have to pick the best peaches.
But here comes the real question.
How can you tell if a peach is good enough or not?
There may be a lot of factors that determine the quality of a peach. But here are some quick handy tips.
If you want the best of the best peaches, try picking those which are:
Solid, having a good aroma
Fully colored
Relatively bigger
Preparing the Ingredients for Juice
As you have chosen the right ingredients with the right quality, now it's time to rightly prepare these ingredients for your juice.
Although there are no hard and fast rules for this, here are some general guidelines.
First of all, wash the peaches properly with tap water. Because you will be using them with their peel, washing will ensure that you are not consuming any kind of dirt or pesticides.
Secondly, cut the peaches in half and take out the seed. The seed can seriously harm your juicer blades.
That's it!
Now you should proceed with the juicing process.
Read Also: How To Juice Oranges in a Juicer?
Making the Peach Juice
This step will be a piece of cake for you if you have done the previous steps carefully and properly.
In this step, just throw all the pieces of peaches, that you have cut earlier, in the juicer. And turn the juicer on, until it blends evenly.
Once you have reached your desired amount of juice produced, turn the juicer off and pour the juice into a container.
You can store this juice for up to 3 days in the refrigerator. Also, you can drink it right after making it. In that case, pour the juice directly into glasses and serve with ice cubes.
Summary
We hope that after reading this article, you have successfully learned how to juice peaches at home.
To summarize, you can say that whenever you want to make peach juice, you have to select bigger, solid, and aromatic peaches.
Also, always remember to wash the peaches properly with water to eliminate any kind of dirt and pesticides.
Furthermore, to ensure the safety of your juicer, never forget to take out the seed of the peaches.