How to make celery juice without a juicer became one of the top trends after the hype created by some Instagram influencers about the juice.
Since most people juice only as a hobby, hence they often do not buy a fancy juicer. However, too many of us think that we cannot make celery juice without a juicer, but in fact, it's possible.
To make celery juice, all you need to do is, have a Blender; a regular one will work, Celery (of course!), and some proper instructions.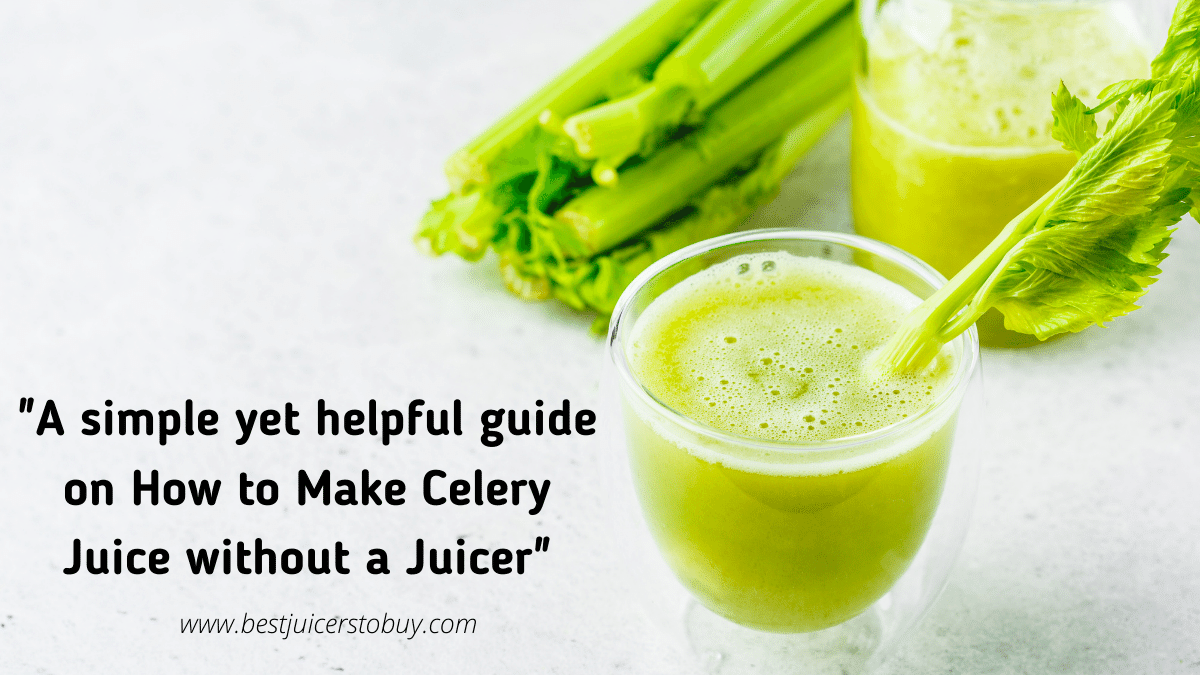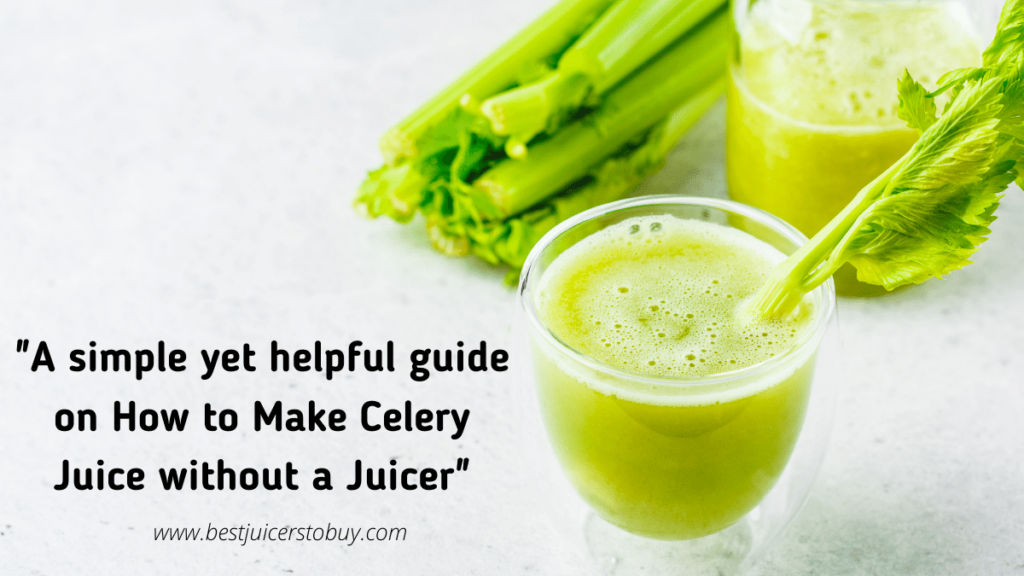 To make your life easier, we have brought this complete guide. Follow the given instructions carefully and you will be able to make celery juice yourself.
What are the benefits of Drinking Celery Juice?
Before doing anything, you should know why you are doing this, and what will be the end result? The same goes with this celery juice. Here we have gathered some health benefits of Celery and drinking celery juice. Have a look.
1. Supporting the Digestive System
Celery is rich in both soluble and insoluble fibers, which are important for healthier digestion. However, in 2010, Animal Research showed that phytonutrients present in the celery extract may also protect the digestive mucosa. Eventually, which may also prevent ulcers.
2. Anti-inflammatory Drug
Enriched with plant compounds having anti-inflammatory properties, celery may also be helpful in curing inflammation.
3. May control blood sugar level
Celery is useful for those who want to monitor their sugar level. Because celery has a very low glycemic index and a high amount of fiber. According to some studies, it may also reduce blood glucose levels effectively.
We Have Reviewed: Best Vegetable Juicer To Buy
How to make Celery Juice without a juicer?
Now as you have learned what are the benefits of celery juice. Now it's time to know how to make celery juice without a juicer. Below, you will find all the instructions. We have divided the guide into four sections. Have a look.
1. Selecting the Ingredients
Celery juice needs only one ingredient which is celery itself. While choosing celery make sure that you choose the one that is the most crispy. The crispier the celery, the more nutrients, and minerals it will have.
Crispy isn't enough in fact. While purchasing your celery, also ensure that it has a very bright light-green color. Fresher celery will have a brighter color.
2. Preparing the Ingredients for Juice
There are 2 major steps in the preparing section. The first is, washing and the second is cutting.
● Washing
Before making the juice, always wash your vegetables or fruits thoroughly. It will ensure that all the dirt is washed away. Also, there are few chances that some pesticides are left on the vegetable. Eating the remains of pesticides may result in severe illness. Hence it's always a good idea to wash your Celery.
To wash the celery, soak it in water for a while. After a few minutes, take it out and scrub it in the running water. This method will work like a charm.
● Cutting
As you have washed your celery finely, now it's time to cut it. If you want to make the most out of your juice, then try cutting your celery into small pieces. Each of the pieces should be 2-3 inches only, neither larger nor smaller.
Always keep in mind that you don't have to peel the celery. Also, leave the leaves intact, they are a good source of Vitamin A.
You can also store it for later use. To store the celery, keep it in an air-tight plastic bag and put it in the fridge or freezer. Every time you want to use it take it out, put it in the room temperature until defrosted, wash it again and use it.
Read Also: 7 Simple Tips To Juice Without a Juicer
3. Blending
As mentioned earlier, if you want to make celery juice without a juicer, you will have to use a blender.
Throw the celery pieces into the blender. Try to leave a little space empty. DO NOT fill the blender to its limit. If you do not leave the space, the blender will not work properly.
After putting the celery in the blender, now pour some clean water into the blender. The water should be equal to or less than a ¼ cup. DO NOT pour much water.
Now blend all the ingredients at high speed. Also, keep checking the blend every 20 seconds. Blend it until it gets your desired thickness. You can add more water if required.
4. Straining
A juicer separates the pulp from the juice automatically. But if you are using a blender to make the juice, you will have to strain the mixture.
For straining, take a fine-mesh sieve or a cheesecloth. Put the cloth over a glass or measuring cup. Pour the blended mixture onto the cloth. However, the mixture will itself strain through the cloth, yet if there is some thick mixture, you can press it gently with a spoon or your fingers.
This method will separate the juice out from the pulp.
Read Also: Best Small Juicers On The Market
Summary
This guide has made you learn how to make celery juice without a juicer. Well, it's very easy to make celery juice without a juicer. There are only 4 simple steps.
First, select the appropriate vegetable. A crispier and more bright-colored celery is the best one.
Second, prepare the ingredients for juicing. It involves 2 steps. First of all, make sure that you have washed the celery thoroughly to clean any type of dirt or pesticide remains. Then, cut it into small pieces about 2-3 inches long.
Third, blending the vegetable. There are a few things to remember regarding the blending. DO NOT fill the whole blender with your celery, unless the blender won't work properly. Also, DO NOT put a huge amount of water while the blending. Only ¼ cup will also work.
The fourth step is straining. You can use a fine-mesh sieve or a cheesecloth for this purpose.