Wheatgrass juice is commonly consumed to get an immunity boost. It is the perfect time to know how to make wheatgrass juice at home because the pandemic is the most delicate time to add homemade fresh juices to your diet.
It is best to boost your immune system, detox, and offer a couple of other benefits. There is a high level of different vitamins and minerals such as Vitamin A, C, and E. In addition, wheatgrass juice also contains iron, calcium, and much more.
In this pandemic situation, it can help and protect you from the deadly virus and keep you healthy. By not wasting any other minute, let's know about how to make wheatgrass juice at home. And keep our immune system and vitamins intact.
The juicers mainly extract wheatgrass juice, but for the convenience of people, this article has included another method. Now, you can make wheatgrass juice in two different ways.
We have reviewed the best juicers for wheatgrass available in the market. If you want to buy one, don't forget to read the reviews first.
Methods of making Wheatgrass juice at home
There are two different methods of making wheatgrass juice at home: a juicer and a blender. The question is, which machine you should preferably use if you own both of these machines, a juicer, and a blender? Let's answer it.
A juicer extracts as much juice as possible and squeezes out more nutrients and minimum pulp left behind. When you use a blender instead of a juicer, you have to mix water with your wheatgrass.
This addition of water reduces the denseness of your juice, and it will become less nutritious. Besides these facts, it could be a more edible and exceptional way to start drinking wheatgrass juice.
Blended wheatgrass juice is best for newbies and first-timers. It is easy to digest and less dense than the juicer's extracted juice.
Read Also: How to juice lemons without a juicer? Top 3 Simple Ways
Fringe Health Benefits of Wheatgrass Juice
As mentioned above, there are numerous health benefits of wheatgrass juice. Some of the significant benefits of wheatgrass juice are discussed below.
Wheatgrass juice contains eight amino acids that our bodies cannot make on their own, so they must be ingested. Besides amino acids, wheatgrass juice is densely nutritious. 
It has minerals and vitamins like Vitamin A, C, and E, along with iron and calcium. This juice helps in controlling blood sugar levels and provides comfort to a sore throat. This may improve respiratory function and offers antibacterial support. 
This is filled with a variety of benefits that can be attained through the daily intake. It's also helpful in balancing hormones in women and treating infertility. 
There are limitless health benefits of wheatgrass juice.  It helps people with higher cholesterol and is useful for people suffering from Hypothyroid because wheatgrass helps stimulate the thyroid gland.
Wheatgrass juice helps in controlling weight loss and contains antioxidants. The antioxidants fight cancer cells and prevent cell damage.
Above mentioned benefits are unique, and you should add wheatgrass juice to your diet for a health boost. Now move to the ingredients, which you must have to make a vigorous wheatgrass juice.
We have also reviewed: 8 Best Juicers for Kale & Spinach
How to make wheatgrass juice at home?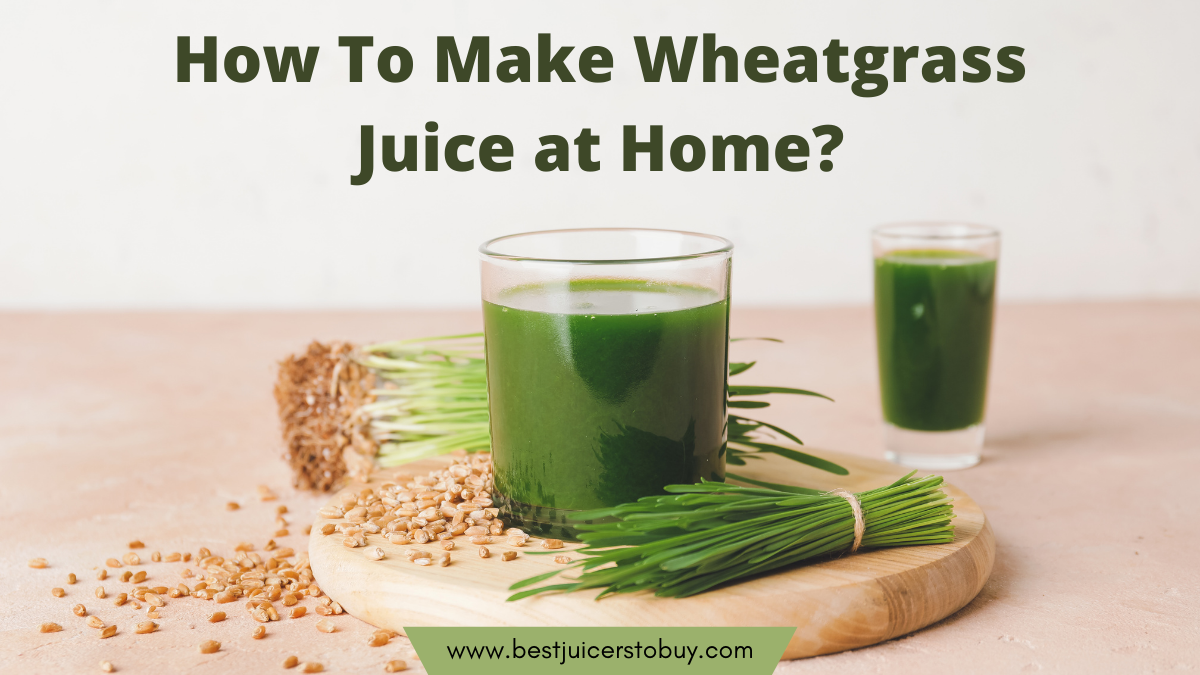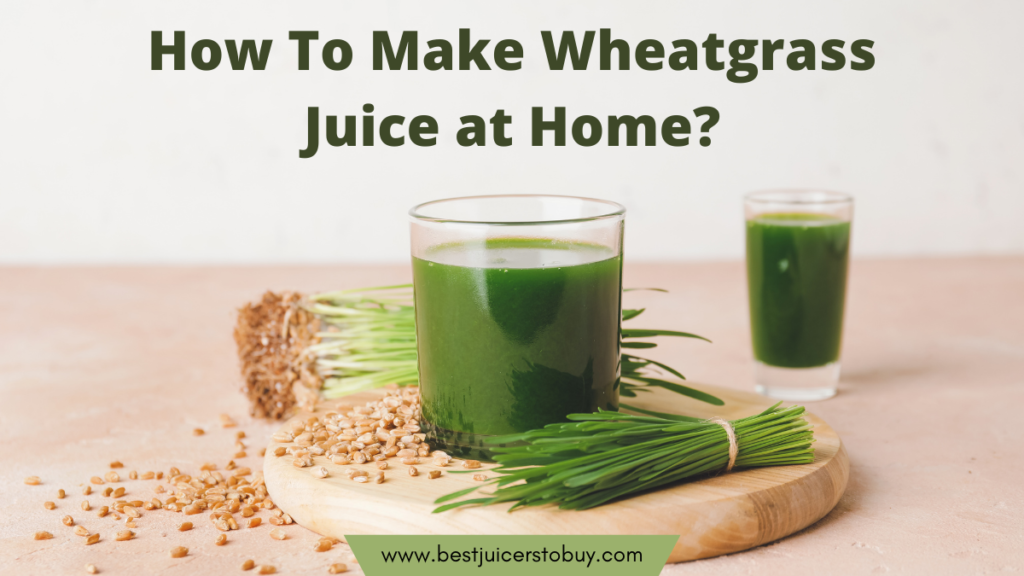 You can follow these steps to make mouth-watering and health-supportive wheatgrass juices at home. They can be used for both juicers and the blender as well.
Ingredients
You need almost 300-gram fresh wheatgrass to extract 220 to 240 ml of wheatgrass juice.
For Juicer
Step 1: Collect fresh wheatgrass and cut it as low as possible.
Step 2: Wash it thoroughly and then rinse it in a large jar of water. Remove any leaf which turns yellow.
Step 3: You can also add fruits like oranges, apples, and carrots as per your taste.
Step 4: Pass a small amount of wheatgrass from the juicer. In a small amount of time, you can have your notorious juice.
For Blender
As mentioned above, if you do not have a juicer, then there is nothing to worry about. You can still extract your wheatgrass juice using a blender.
You need the following things to remove your juice: wheatgrass, a cup of water, and something to drain your juice.
Step 1: Start blending your wheatgrass until the whole wheatgrass is crushed.
Step 2: Pass the juice from the tool you have arranged to collect the sap. Squeeze properly and try to get the maximum amount of nutrients from the wheatgrass juice.
Note: No matter if you have extracted juice from a juicer or blender, consume it as soon as possible because it will lose nutritional value over time.
Read Also: 5 Amazing Benefits of Tomato Juice for Skin
Additional Information (Tips)
If you are a first-timer or newbie, you must consider the following instructions carefully.
If you consume wheatgrass juice the first time, it may cause some side effects. Like, it can upset your stomach, headache, fatigue, or nausea. The wheatgrass juice is a detox juice, and it can take time to use it.
To overcome this problem, you can start with a minimum amount of juice. For example, at first, start with 50ml and then slowly increase the amount of juice. You can also start it by adding wheatgrass juice to other recipes, so your stomach gets used to it.
Another tip for the newcomers has wheatgrass juice in the morning with an empty stomach. And wait for almost 30 minutes to an hour before eating anything. This will help you to overcome nausea.
As mentioned above, you can add wheatgrass juice to other juices and smoothies to change the taste.
If you have gluten sensitivity, you must consult your doctor before adding wheatgrass to your diet. Or, as a caution, stick to gluten-free products.
FAQs
How does Wheatgrass juice taste?
Wheatgrass juice's taste depends upon different factors such as its age, its atmosphere, and what kind of seeds are used to grow it. It tastes slightly sweet but mostly bitter.
How does wheatgrass smell?
It smells like fresh grass. Most people do not like it because of its smell.
Does wheatgrass aid in losing weight?
Yes, it certainly does. It is a perfect diet for people who are struggling to lose weight. Wheatgrass juice is dense, and it helps in suppressing appetite. It has been filled with nutrients and minerals.
We have reviewed: Best Juicers for Pomegranate
Use of Leftover Pulp of Wheatgrass Juice
When you blend wheatgrass for juice, a lot of pulp is left behind. This pulp has been filled with fiber and other nutrients. You cannot eat it because it is indigestible. But some people happily use the blended wheatgrass in smoothies and enjoy it.
You can also dry the blended pulp and make powder of it. Then you can use it in different dishes and recipes according to your desire.
If you don't like pulp at all, you can use pulp-free juicers as well.
Conclusion
I hope this info may help you to get an idea of how to make wheatgrass juice at home? You can utilize each step and instruction to make your wheatgrass juice more delicious and healthy.