Imagine standing before the apples in a supermarket's fruit section.
There's a sale!
And you are thinking about how many uses you can have these apples for, after having so many apples from that SALE!
You can eat them raw.
You can bake them.
You can mix it with other fruits for savory salads and desserts.
And oh yes! The Energizing Juices.
You can find apples in many different colors. They can be red, green, and even yellow sometimes.
But have you ever wondered what is the meaning of these colors and as a juicing enthusiast, have you ever thought which of these are the best apples for juicing?
Well, you will be astonished to know that there are almost 7500 different varieties of apples that grow all over the world.
Whoah, pretty much to believe! No?
So, here comes the real question. How will you know which apples to juice and which to not?
However, there is nothing to worry about. Because today, you have explored the most simple and helpful guide to selecting the best apples for juicing.
In this guide, you are going to learn some health benefits of apple juice, different types of apple juice, and last but not the least, the most suitable apples for juicing.
So, let's start with some health benefits of apple juice.
Some Health Benefits of Apple Juice
Whole apples have their health benefits. However, when we extract their juice, it maximizes their hydrating ability and we get some plant compounds as well. Here, you will find the top 4 health benefits of apple juice.
As a rehydrating agent, apple juice appears to create a win-win situation. Because, unlike many oral rehydrating solutions, it has a very soothing taste yet, the same hydrating abilities. So, one of the four health benefits of apple juice is its rehydrating ability and great taste.
Plant compounds like polyphenols are abundant in apple juice, which helps in protecting your cells from much disease-causing oxidative stress and inflammation as well.
Many studies have shown us that apple juice helps increase the anti-oxidant agents in your blood cells and protect bad cholesterol from oxidation. This activity reduces the chances of heart disease.
Some studies conducted on animals, especially mice, have proven that apple juice helps in promoting the memorization function of the brain. Moreover, some research on humans, also states that drinking apple juice to a certain time benefits people in maintaining their brain health as they age, especially for Alzheimer's patients.
Types of Apple Juices
Think of apple juice.
What came to your mind?
Maybe that lightly amber-colored drink with a transparent touch that is often seen with school lunches or at breakfast.
Well, that is the commercial version of apple juice. And you will be surprised to know that commercial juices are overprocessed, having a pretty huge amount of sugar and lesser nutrients.
Other than commercial juice, there is also another type of juice and that is fresh juice. This is also called Cider. You may find it in different places. For example, pasteurized refrigerated at the grocery stores with a shorter date of expiry. Or you can also find it at the roadside juice cart or kiosk.
This type of juice is not much processed and has a relatively larger amount of nutrients present in it.
And the good news is that you can also make this nutritious fresh apple juice at home very easily. All you need is one of the best centrifugal juicers or any that you like, some apples, and some quality time for juicing.
You can also find some of the best juicers for apples as well, check out here.
But for making the right type of juice for the right time, it is important to know which types of apples are good for juicing. Let's find out.
9 Best Apples for Juicing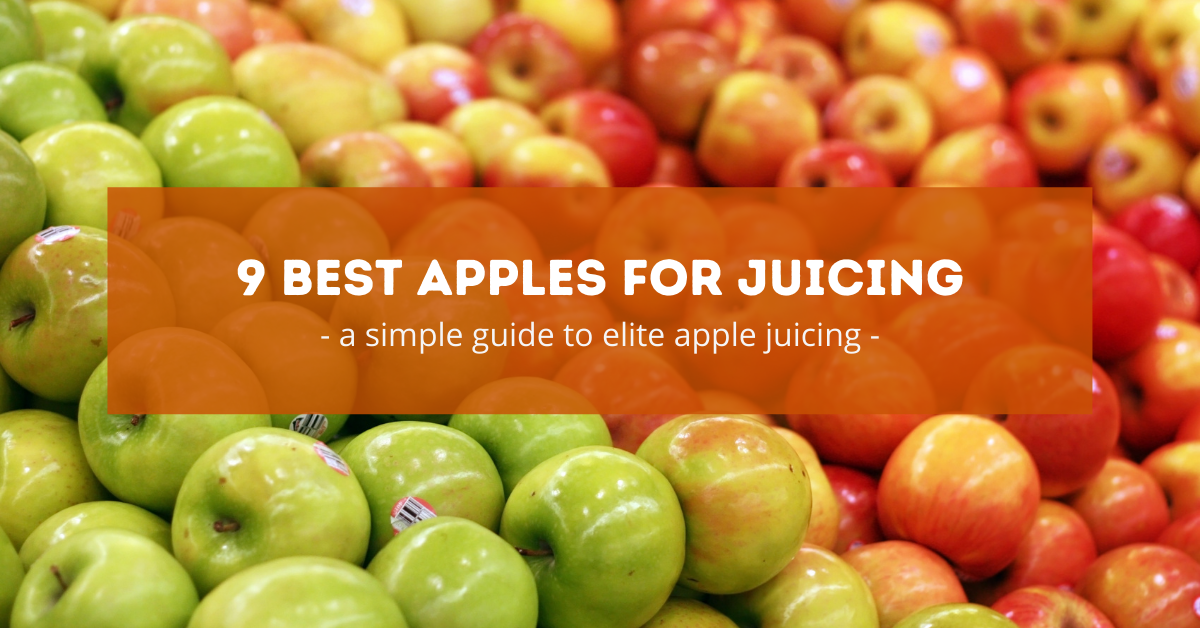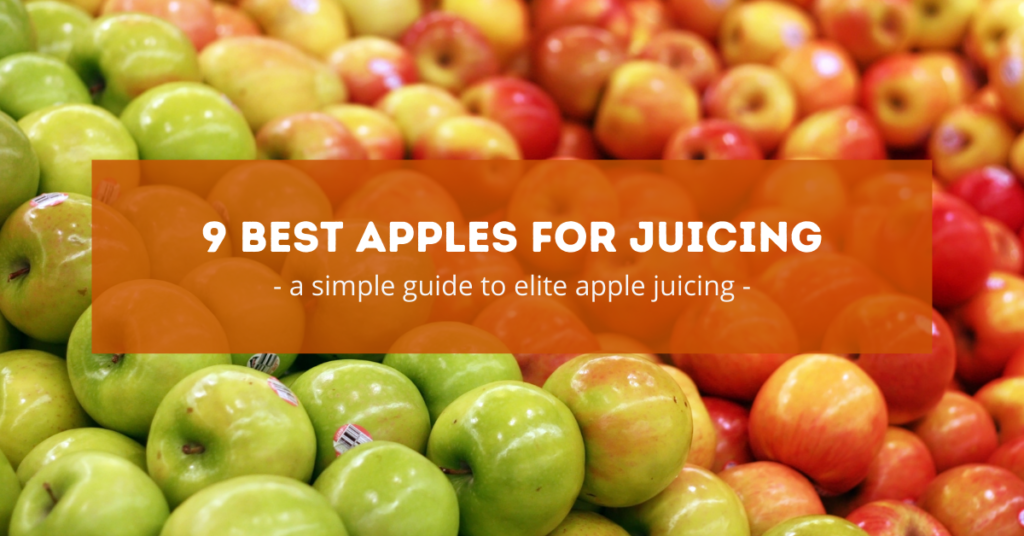 Below, we have listed 9 different kinds of apples that are best for juicing.
1. Red Delicious Apples
This type of apple has a traditional apple taste, a typical apple shape, and deep red color. If you want your apple juice to be sweet and a little bit tart then, go for red delicious apples.
The only drawback you will have to face while dealing with red delicious apples is that they don't have a unique flavor and taste. You will only get some ordinary apple flavor notes.
Although red delicious apples have a mealy texture, they are still one of the leading picks for juicing.
2. Honey Crisp Apples
As the name itself says, this apple is sweet like honey. Instead of having a honey-like taste, it's quite acidy to make a good balance. These apples have a crispy, crunchy texture.
The rich-flavored notes present in honey crisp apples make them a great catalyst for juices. However, when juiced alone, due to their unique flavor, serious apple juice fans can easily recognize them.
3. Gala Apples
Gala apples usually have a fruity taste. However, the extra fresh ones have a much different taste.
Typically, they are relatively sweeter than other kinds of apples. Yet, they still have a balanced acidity. Gala apples are smaller in size as compared to other types, so, you will need more apples to make a glass of juice.
Galas possess a crispy texture, can be found with lesser efforts, and have a good value for money.
Read Also: 7 Best Oranges for Juicing (In-Depth Guide)
4. Golden Delicious Apples
The apples having a bright, yellow skin are the Golden Delicious Apples. If you want your juice to be rich and sweet then, go for them. Golden Delicious apples have a honey-touch and fruity flavor.
According to some juicing experts, these are the best choice of apples for juicing. Their skin is relatively thin and they have a soft texture. Hence, you can also eat them as well.
5. Fuji Apples
If you are looking for a robust, sweet flavor in apples, then go blindly for the Fuji Apples. You can also store them for a longer period, so, if you juice regularly, you can freely store them up when you see another SALE on apples though.
Having a firm, fine texture, Fuji Apples make a great pick for adding as a base to other flavor profiles. Yet, they still make great juice when juiced alone.
6. Granny Smith Apples
You can find a crisp and tart flavor in the Granny Smith Apples. Their juice is also usually tart but refreshing and full of flavor as well.
If you juice this apple alone, then, you may end up having too tart juice. Hence, we advise you to mix it with some extra sweet apples to balance your juice.
Their skins are green in color and thick-textured.
Check Also: 12 best juicers for a perfect juicing experience!
7. Pink Lady Apples
This is one of the rarest species of apples. They have a crispy texture and as the name suggests, a bright pink color.
If we talk about their flavor then, we can say that it is a mixture of both. That is a mixture of sweet and tart flavors.
These apples are pretty new in the market. We saw their inception only 20 years ago. However, the experts say that they will be the most popular apples for juicing in the coming years.
Pink Lady Apples can make enormously flavorful juice that is sweet and tart, but more on the tart side.
8. Winesap Apples
Winesap apples are one of the rarest types of apples. You will not easily find them on the supermarket shelves. They are rare.
Their balanced flavor and crisp texture make them the most elite pick for any use. You can use them for juicing and eating as well. In both ways, the Winesap apples perform the best.
Just like the Pink Lady Apples, Winesap Apples are also a combo of tart and sweet flavors.
9. Braeburn Apples
According to most people, the Braeburn Apples are the benchmark for commercial varieties of apples.
This type of apple is easy to produce, well flavored, perfectly balanced, and affordable to consume.
If you want to extract the best taste out of the Braeburn Apples, then always store them in an environment with a temperature below the room temperature. And when to use, don't let them warm up.
Moreover, these apples are more lenient on the sweet side rather than the tart side. These apples have a harder yet, sandy texture.
If you want to juice these, then mix them with some tart-flavored apples. For example, Granny Smith Apples and Winesap Apples.
Conclusion
Hopefully, after reading the whole listing, you have developed a strong knowledge of what kinds of apples are best for which type of juice. However, let's have a look at what other learnings we made in this guide.
Apple juice has a lot of health benefits if we drink it on a regular basis. It can help us fight different kinds of deficiencies as well as diseases.
There are almost 7500 different species of apples that grow all over the world.
In this article, you have explored the top 9 species that go well with juices.
So, now you can head towards the market and pick the best apples for juicing.