Carrot juice is unanimously one of the most popular vegetable juices in the world. Carrot juice can benefit you in a lot of different ways. For example, it may improve your vision, sugar level, immunity, etc. But juicing carrots always raises a question: do you really need to peel carrots before juicing?
Well, in this blog post we have gathered some important information about juicing carrots. Moreover, you will also find the health benefits of carrot juice along with the answer to your question: is it necessary to peel carrots before juicing.
Take a look.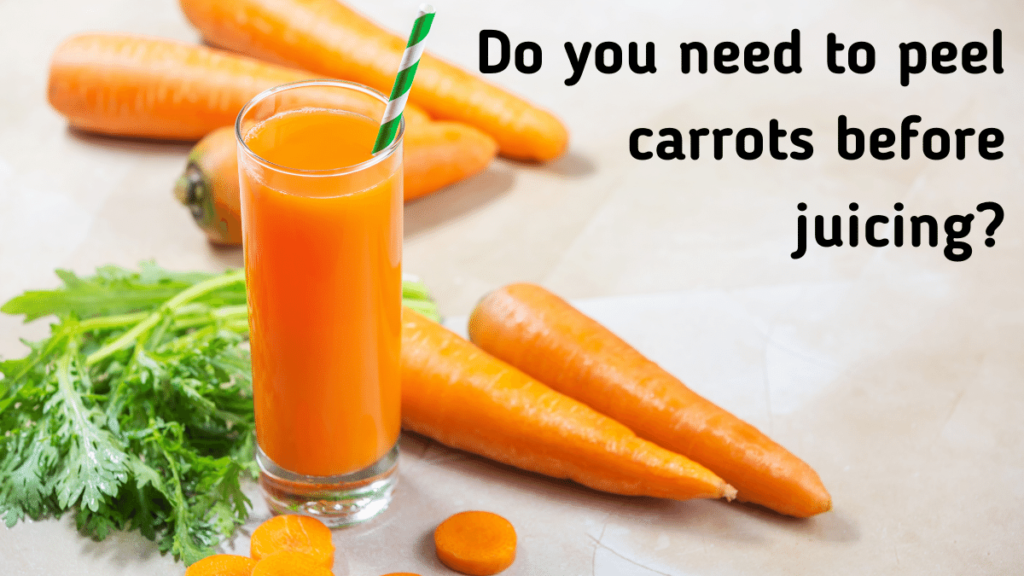 But before going into the discussion, keep in mind to juice carrots with the perfect juicer. Well, we have also reviewed the 8 best juicers for carrots, you can read that article as well.
5 Surprising Benefits of Carrot Juice
Before starting the journey of juicing carrots, you should know how beneficial carrot juice is.
Carrot juice can provide you with the optimum amount of essential minerals and vitamins. Furthermore, it may also improve your skin, vision, along with other health benefits.
Here are 5 surprising benefits of Carrot Juice.
1. Highly Nutritious
Along with having a very low amount of calories and carbohydrates, carrot juice is very rich in essential nutrients. One cup of carrot juice contains:
96 Kcal
2.24 grams (g) of protein
0.35 g of fat
21.9 g of carbohydrate
1.89 g of fiber
Also, it contains a variety of minerals and vitamins:
689 mg of potassium
20.1 mg of vitamin C
0.217 mg of vitamin B-1 (thiamin)
0.512 mg of vitamin B-6
2.256 micrograms (mcg) of vitamin A
36.6 mcg of vitamin K
2. Improve vision
Carrot juice contains a huge amount of minerals that can benefit your eyesight. For example, Vitamin A is very important for eye health. However, 250 Mililitres of carrot juice contain 5.656 micrograms of vitamin A. which equals 250% of the recommended daily intake.
Many pieces of research show that the intake of fruits and vegetables which contain Vitamin A may help in decreasing the factor of blindness and age-related eye diseases.
Read Also: Do You Need To Peel Ginger Before Juicing?
3. Immunity Booster
Carrot juice also acts as an immunity booster.
As we know that carrot juice contains a good amount of Vitamin A and C. Hence, we can say that carrot juice may help in improving immunity.
Why?
Because both vitamins act as antioxidants that protect the immune system from damage caused by free radicals.
Furthermore, carrot juice is also rich in vitamin B6. 1 cup of carrot juice can provide almost 30% of the recommended daily intake of Vitamin B6. Deficiency in Vitamin B6 may lead to a weakened immune system.
Long story short, being a rich source of Vitamin A, C, and B6, carrot juice might appear to be a very important immunity booster.
4. Control Suger Level
Drinking a small amount of carrot juice might also help you control your blood sugar level.
According to a study, fermented carrot juice decreased the blood sugar level of rats with type 2 diabetes. Moreover, it also eradicated other related markers. The reason behind it is that carrot juice contains probiotics, and these probiotics are the bacteria that fight against the gut bacteria of diabetes.
As a matter of fact, fermented carrot juice is not exactly the same as the regular one. So, we cannot say if regular carrot juice will have the same effects.
However, regular carrot juice has a considerably low glycemic index (GI). Glycemic Index is the measure of how much a particular food will increase the sugar level in the blood. Similarly, consuming food with having low glycemic index may lower the blood sugar level.
Hence, carrot juice may be a good replacer for high GI fruit and vegetable juices. But always keep in mind to maintain the proportion sizes, unless you might end up spiking your blood sugar level.
Read Also: Best vegetable juicer to buy
5. Beneficial for Skin Health
The nutrients present in carrot juice may be extremely beneficial for your skin health.
As mentioned earlier, one cup of carrot juice contains 20.1 mg of Vitamin C which is equal to 20% of the Daily Value intake.
Vitamin C is responsible for the production of collagen in our bodies. Collagen is the most abundant fibrous compound in human bodies that provides elasticity and strengthens the skin.
Also, vitamin C plays the role of an antioxidant that protects the skin from free radical damage.
Additionally, carrot juice contains a good amount of Beta Carotene. One of the many studies shows that Beta Carotene helps protect the skin from Ultra Violet damage and improves the skin appearance.
In short, carrot juice contains Vitamin C and Beta Carotene, which both are key nutrients in the development of skin health. Vitamin C promotes the production of collagen which strengthens the skin and protects from free radical damage. However, Beta carotene protects against UV damage and improves skin appearance.
Do you need to peel carrots before juicing?
As we have discussed the benefits of carrot juice and how it helps in improving our health. Now it's time to gain a little bit of information about juicing carrots.
The very first question that arises is, whether you need to peel carrots before juicing or not?
The answer to this question is very simple. Peeling carrots before juicing is an entirely personal preference. It doesn't affect the nutritional value of the juice at all. It might affect the appearance and taste of the juice, though.
If you are really excited about juicing carrots, you need to find the best juicer for carrots. There are a lot of different juicers available in the market for juicing carrots. If you do good market research you'll end up buying the best for you.
Read Also: Best Juicer For Tomatoes
Final Words
In this article, we have discussed the most asked question about juicing carrots along with the benefits of carrot juice.
Carrot juice has several health benefits including, improvement of vision, providing proper nutrition, controlling the sugar level, improving the skin, etc.
Additionally, you will also find the answer to your question in this article. That is, peeling carrots before juicing is a personal preference. It doesn't affect the nutritional value of the juice.